Beyonce Knowles Workout Routine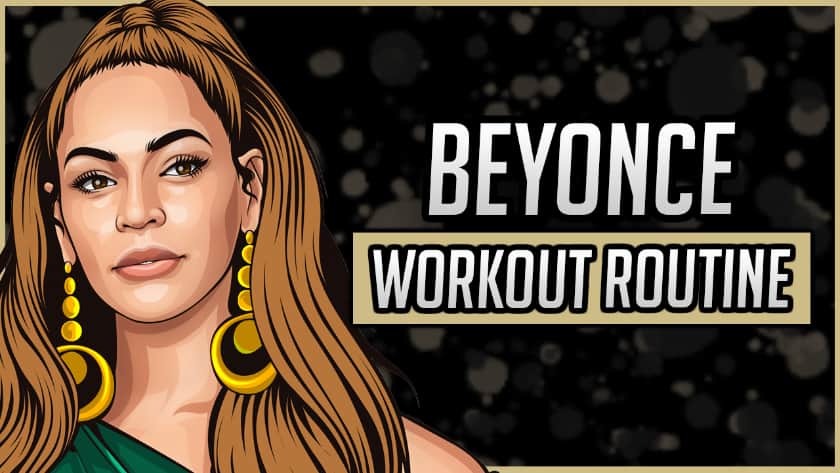 What does Beyonce Knowles' workout routine look like? 
Beyonce Knowles' is an American singer, songwriter, record producer, dancer, actress, and filmmaker. Knowles' was born in Houston, Texas and she rose to fame in the late 1990s. 
Today, she is one of the highest-paid singers in the world, and her music has sold millions of copies around the globe. She also has impressed her fans with her flawless body. 
Within this article, we'll discuss Beyonce Knowles' workout routine, diet, and supplements: 
Current Stats 
Height: 169 cm – 5'6"
Weight: 65 kg – 143 pounds
Age: 38 years old 
Birthday: 4th of September, 1981
Accolades: Billboard Music Award for Top Female Artist, Winner, 2017 

Workout Principles
For 5 days a week, Beyonce will jog for at least 15 minutes per day. This is part of her warm-up routine and she uses it to help get her ready for the rest of her workout.
Beyonce Knowles' Workout Routine
Beyonce tries to work out 5 days a week and she also practices choreography 7 days a week. She has stated that she trains with a personal trainer. 
She performs 30 minutes of cardio in the morning followed by 45 minutes of weight lifting. When she practices choreography she performs it for 9 hours at a time. 
Here is Beyonce Knowles' workout routine: 
Beyonce 5 Minute Body Blaster:
Beyonce hits this routine by doing every routine one minute each which means in 5 minutes she has targeted each of these muscle groups.
Here is Beyonce Knowles' 5-minute body blaster routine: 
1. Jumping Plies
2. Reverse Lunges
3. Push-Ups
4. Dips
5. Side Planks
Beyonce's Go-To Thigh Movements from Marco and Elle:
On this routine, Beyonce performs 4 different exercises. 
Here is Beyonce Knowles' go to thigh movement routine: 
1. Jumping Lunges (3 sets, 10 reps) 
2. Plie Jumps (3 sets, 10 reps) 
3. Pelvic Lifts (3 sets, 10 reps) 
4. Reverse Squat Kicks (3 sets, 10 reps) 
Beyonce Workout Additional Cardio Section: 
Beyonce burns a lot of calories via choreography. She's also finding time when possible to hit longer training sessions with Marco where she's using battle ropes and other forms of training to burn the calories. 
Beyonce Knowles' Diet 
When Beyonce prepared for Coachella in 2018, she went on to eat vegan plant-based food.
However she has not been vegan all this time, she used to love seafood. Even though the singer wants to stay in shape she likes to treat herself with some snacks such as chocolate. As of today, she eats fish also. 
Here is Beyonce Knowles' diet: 
1. Breakfast
Egg whites
Vegetable smoothie
2. Lunch 
3. Dinner 
Supplements 
Beyonce Knowles' uses the following supplements to help fuel her gains: 
Summary 
Beyonce is mostly known for two things, her singing, and her ridiculously hot body. She has influenced millions with her music and is today known for being the queen of music. 
If you enjoyed this routine, check out some of our other female singer workout routines:
What do you think about Beyonce Knowles' workout routine and diet? Leave a comment below. 
<![CDATA[ */ var zbjs = {"ajaxurl":"https:\/\/jackedgorilla.com\/wp-admin\/admin-ajax.php","md5":"d16a4326ce5fc8a7290ecf8217830668","tags":[],"categories":["Workout Routines"]}; /* ]]>