The 10 Best Niacin Supplements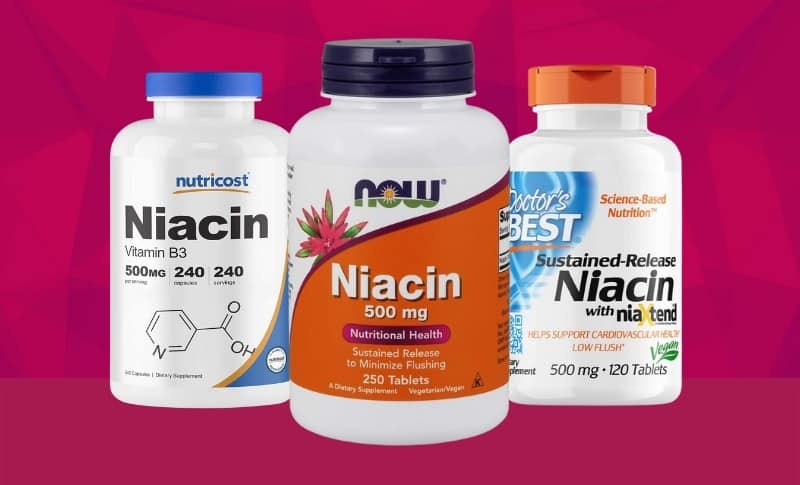 Which are the best niacin supplements?
Niacin is vitamin B3, a water-soluble nutrient that supports the cell energy system and helps convert carbs, proteins, and fats into energy.
Poultry, fish, beef, and even hearty classics like marinara sauce contain niacin, but not everyone eats enough of these foods to have ample niacin intake.
Meat and fish have the most niacin, so vegetarians and vegans may fall behind in niacin intake and generally have lower levels of vitamin B.
We've made shopping for B3 supplements easier with this list of the top products from popular niacin brands.
Let's dive in – here are the top 10 niacin supplements to put on your radar:
Top 10 Niacin Supplements Compared
Our supplement lists are created by researching the best-reviewed products from the most reputable companies and web sources.
In A Rush? Here's Our Top Pick
Best Niacin Supplement Overall
10. Solaray – Niacin
Solaray's no-flush capsules contain 500 mg of niacin in each tablet, with 100 capsules per bottle.
The company has made vitamins, minerals, and supplements since 1973, and it promises 2,500% of the daily value in each vegetable cellulose capsule.
Organic rice extract blend, silica, and aloe vera gel are the other ingredients in these non-GMO, vegan supplements.
The niacin B3 from Solaray comes as inositol hexanicotinate, so it doesn't result in the red face, sweating, itching, tingling, or headache other flush capsules may cause when starting or upping the dose.
The health benefits of Solaray supplements are attractive too, supporting a healthy metabolism, cardiovascular, circulatory, and nervous system.
Plus, every batch is lab-verified for potency and purity.
Pros
500 mg of niacin per serving.
Small, easy-to-take capsule is less than an inch long.
No flush prevents redness and tingling.
Non-GMO, vegan, and lab-purified.
Produced in the U.S.
Cons
No flush doesn't have a clinically proven impact on good cholesterol.
100 ct. bottle not as big as others.
9. Source Naturals – Niacin
Niacin supplements by Source Naturals have a smaller dosage than others with 100 mg of niacin per daily tablet.
These supplements are a good choice for those that want to increase their niacin intake without overdoing it and running the risks of a niacin overdose.
The low-dose supplement allows you to build up your intake and avoid flushing, with 250 vegetarian-friendly capsules in each bottle.
The ingredients include microcrystalline cellulose, dibasic calcium phosphate, stearic acid, magnesium stearate, and silica.
Made in California, Source Naturals niacin supplements are free from dairy, gluten, corn, yeast, egg, soy, and wheat.
There are also no artificial colors, flavors, or fragrances.
The company highlights niacin benefits like supporting healthy enzyme activity for metabolizing fats and carbs, as well as nervous system and digestive system function.
Healthy sex hormones and skin maintenance are also linked to niacin.
Pros
250 capsules per bottle.
Free of salt, sugar, starch, and artificial preservatives.
Good for vegetarians.
Source of calcium for strong bones and teeth.
100 mg niacin is adequate for many diets.
Cons
Contains fillers.
100 mg niacin per serving is lower than other supplements.
Potential for flushing, although lower risk due to moderate niacin dosage.
8. Solgar – Niacin
Solgar's niacin vegetable capsules are vegan-friendly and offer 500 mg of vitamin B3 per serving.
The nicotinic acid form is gluten-free, dairy-free, and kosher, with 250 servings per bottle.
These supplements are non-GMO and contain vegetable cellulose and vegetable magnesium stearate.
Solgar states these niacin capsules support cardiovascular health and proper energy metabolism.
Labeled as the "gold standard for vitamins and supplements since 1947," Solgar exclusively uses fine raw materials to deliver health benefits for converting carbohydrates and proteins into energy.
These niacin capsules are free of wheat, gluten, and dairy. There's also no soy, sugar, sodium, sweetener, yeast, preservatives, or artificial colors.
Solgar's science-backed formulas feature responsible sourcing and small-batch, in-house manufacturing so you can feel good about what you're putting in your body.
Pros
Suitable for vegans.
500 mg of niacin per serving.
Nicotinic acid has a better impact on cholesterol than non-flush forms.
USP water filtration and HEPA air filtration are used throughout manufacturing.
Long-lasting amber glass bottles keep capsules fresh with protection from heat, light, and moisture.
Cons
Nicotinic acid can cause flushing.
May have side effects, especially for first-time users.
Not suitable to take on an empty stomach.
7. Nature Made – Niacin
Nature Made is a trusted leader in dietary supplements, and its niacin softgels are popular thanks to 500 mg of flush-free inositol hexanicotinate.
Nature Made promotes its products as the supplement brand most recommended by pharamacists and helps support the nervous system and circulatory function.
The gluten-free softgels are easy to take with water and a meal, giving you a great source of vitamin B3 to help with blood vessel health and circulation.
Nature Made niacin has no synthetic dyes with colors derived from natural sources. The other ingredients include soybean oil, gelatin, glycerin, rapeseed lecithin, and yellow beeswax.
There are no artificial flavors or preservatives in these supplements which are tested for purity and potency.
Keep in mind there are just 60 softgels in each bottle, so you may need to stock up on a few if you plan to take niacin long-term.
Pros
500 mg of niacin per serving.
Softgels offer quick digestion and are easy to swallow.
Flush-free for comfortable use with minimal side effects.
Supports circulatory and nervous system health.
Cons
Only 60 softgels per bottle.
Flush-free formula doesn't have as many health benefits for cholesterol as regular niacin.
6. Endurance Products – ENDUR-ACIN
Endurance Products delivers a low-flush, extended-release niacin solution in these ENDUR-ACIN supplements.
The 500 mg tablets are vegan-friendly and support good heart health and cholesterol balance.
Vitamin B3 comes in the form of nicotinic acid within the tablet's vegetable wax core for an extended 6-8 hour release.
The outer coating melts at body temperature, mimicking the body's natural food processing with a slow and steady release of powerful nutrients.
The sustained-release minimizes flushing symptoms and delivers nutrients at the proper rate for healthy absorption.
You can get the full benefit of these nutrients without losing much niacin through urine.
Endurance Products is a family-owned company making supplements since 1978, which promises to use only healthy, natural ingredients to ensure the best results in maintaining good cholesterol balance and heart health.
Pros
200 tablets per bottle with 500 mg niacin in each serving.
Extended-release formula for low flush over 6-8 hours.
Safe for vegans and vegetarians with vegetable-based wax.
Gluten-free with no common allergens or artificial flavors.
Made at an FDA-registered facility in Pacific Northwest.
Cons
Nicotinic acid may cause flushing.
5. Doctor's Best – Niacin
Niacin supplements from Doctor's Best come with Niaxtend for extended-release.
There are 120 500 mg niacin tablets in each bottle, with a timed-release over eight hours to give users the full cholesterol and circulation system benefits found in nicotinic acid.
There are minimal flushing side effects thanks to the formula of vegetable waxes, stearic acid, magnesium stearate, and silica.
Doctor's Best niacin is vegan-friendly and supports more than 500 enzymatic reactions for energy production, metabolism, and healthy aging.
With potent antioxidant activity, these niacin supplements are ideal for adults who want to further boost their health and ensure they are getting the most nutrients.
The manufacturer recommends these supplements along with a healthy, balanced diet to help keep cholesterol levels inside the normal range.
Pros
500 mg of niacin per tablet.
Sustained-release tablets lower flush symptoms.
Full power of nicotinic acid with cholesterol benefits.
Non-GMO, gluten-free, and vegan-friendly.
Cons
Lower quantity count with 120 tablets per bottle.
4. Nutricost – Niacin
Nutricost niacin supplements are extremely potent with 500 mg of nicotinic acid per capsule.
Unlike non-flush forms or extended-release tablets, these capsules are likely to cause niacin flush.
These symptoms of redness, warmth, tingling, and headache are only temporary and for many, last no longer than an hour.
Once the body adjusts to this niacin intake, the flushing will subside and the full power of the niacin will take effect, with a positive impact on cholesterol and circulation system health.
It's important to take Nutricost niacin with food due to the immediate release formula, which is gluten-free, non-GMO, and third-party tested for quality and potency.
These supplements are made in an FDA-registered and GMP-compliant facility with ingredients like microcrystalline cellulose, di-calcium phosphate, maltodextrin, and pure olive oil.
The gelatin and purified water capsules are easy to swallow and packed full of health benefits.
Pros
Nicotinic acid better supports cholesterol and overall health benefits.
240 servings of 500 mg niacin per container.
Gluten-free, safe for adults and children with medical permission.
Non-GMO and third-party tested.
Cons
Flushing symptoms are common.
Shouldn't consume on an empty stomach.
May be too powerful for some, especially those who are just starting with niacin supplements.
3. Nature's Bounty – Niacin
Best Flush Free Niacin Supplement
Nature's Bounty niacin supplements come in 120 ct. bottles with 500 mg per flush-free capsule.
Inositol hexanicotinate eliminates the uncomfortable skin irritation and flushing symptoms while still offering many health benefits, including vibrant skin, strong metabolism, and a healthy nervous system.
It also helps with cardiovascular health and contains premium herbal ingredients like gelatin, vegetable stearic acid, silica, and vegetable magnesium stearate.
Nature's Bounty is one of the best-known supplement brands with nearly 50 years of manufacturing experience, with every batch made in audited, high-quality facilities.
Quality tests throughout the manufacturing process ensure full potency and purity.
Nature's Bounty recommends taking a capsule once or twice a day with food for the best results and a big health boost.
Pros
Flush-free inositol hexanicotinate formula.
500 mg per capsule, 120 doses per bottle.
Gluten-free and lab-tested.
Aids in food conversion and energy support.
Cons
Contains fillers.
Not suitable for vegetarians or vegans.
For adults only.
2. Rugby – Niacin
One of the top contenders on our list of the top niacin supplements comes from Rugby, a Michigan-based manufacturer with 40+ years in the nutrition industry.
Rugby niacin tablets have nicotinic acid for an immediate release of potent vitamin B3, which benefits cholesterol levels by maintaining a healthy lipid balance and supporting tissue health.
The 500 mg capsules are available in bulk with 1,000 capsules in every affordable bottle.
Rugby uses a reliable formula of microcrystalline cellulose, croscarmellose sodium, stearic acid, hydroxypropyl cellulose, and magnesium stearate.
Just keep in mind that flushing is common with these tablets, so it may take a slight adjustment period but then your body can get the most out of these niacin supplements.
Pros
Great value with 1,000 500 mg capsules per bottle.
Better cholesterol benefits with nicotinic acid.
Maintains healthy lipid balance.
Promotes healthy tissues.
Cons
Contains nicotinic acid but no extended release.
Likely to cause flushing.
Made for adults only.
Contains fillers.
1. NOW Foods – Niacin
Best Niacin Supplement Overall
Coming in at number one is Now Foods niacin capsules with 500 mg of vitamin B3 per serving.
The high potency nicotinic acid has a sustained release for minimal flushing side effects and healthy cholesterol benefits.
There are 250 vegetarian/kosher/vegan tablets in each bottle, offering great value for money.
Those with common allergies to dairy, eggs, nuts, soy, or gluten are safe to take these niacin tablets.
Now Foods is GMP quality assured, receiving an NPA A-rating, meaning every aspect of the manufacturing process has been approved for product formulation, potency, and stability.
In addition to the rigorous laboratory testing methods, this manufacturer's tablets stand out for the sustained release that prevents flushing and itching that often deters people from taking niacin tablets.
For the best results, take one tablet every day.
Pros
500 mg tablets with 250 in each pack.
Sustained release minimizes flushing symptoms.
Strong support for healthy cholesterol thanks to nicotinic acid formula.
Tested and approved for potent product formulation.
Cons
Not recommended to miss doses.
Made for adults not children.
FAQs About Niacin
Q: What Is Niacin?
Niacin, otherwise referred to as vitamin B3 or niacinamide, is one of eight essential B complex vitamins.
It's water-soluble and comes in three types: niacinamide, nicotinic acid, and inositol hexaniacinate. The body uses niacin to convert food into energy.
Organ meat, fish, and poultry like chicken and turkey are the most common natural niacin sources.
You can also get it in smaller quantities through grapefruit, green peas, Jerusalem artichokes, marinara sauce, milk, mushrooms, peaches, sweet potatoes, tuna, and yeast.
The recommended daily upper limit is 35 mg for adults, and most people who eat some meat or niacin-rich vegetables and fruit will not develop a vitamin B3 deficiency.
However, those who follow a vegetarian or vegan diet, and even some on certain medications such as isoniazid for tuberculosis, may not get enough niacin.
For those individuals, the best niacin pills can help them get adequate nutritional value from this essential vitamin.
Q: What Are The Benefits Of Niacin?
Niacin delivers many health benefits, as every part of the body can benefit from this nutrient that helps enzymes function and supports cellular metabolism.
Low-density lipoprotein (LDL) or "bad" cholesterol is linked to coronary heart disease, but that risk can be lowered through niacin treatment for high cholesterol treatment, which was introduced in the 1960s and continues today.
Niacin has been found to lower LDL cholesterol by 5-20%, although there are possible side effects so it's usually used when statins don't work.
Vitamin B3 can also boost HDL "good" cholesterol by 15-35%, which may lower the likelihood of heart disease.
Other niacin benefits include lowering triglyceride fats by 20-50% through inhibiting the enzyme that supports triglyceride synthesis.
Niacin prevents artery inflammation and oxidative stress and protects pancreatic cells that create insulin and are targeted by autoimmune diseases like type 1 diabetes.
It also supports brain function in those suffering from memory problems.
Finally, vitamin B3 protects the skin from sun damage and may alleviate osteoarthritis symptoms, although more research is required.
Q: What Are Symptoms of Niacin Deficiency?
Symptoms of vitamin B3 deficiency include headaches, scaly skin rash, memory loss, and diarrhea.
The three D's of diarrhea, dermatitis and dementia are known as pellagra, which is much more common in developing nations where nutrition is a concern.
Even so, it may appear in those with low or no meat intake, so it's important to watch out for anything unusual and always seek immediate medical attention if you experience these symptoms.
Q: What Are The Side Effects Of Niacin?
The main side effect of niacin in nicotinic form is flushing. Niacin flushing is the feeling of redness, heat, tingling, and itching that may accompany the initial dosage.
It may feel similar to a sunburn and persist for an hour or slightly longer depending on the person and the previous niacin intake.
It usually takes around 30 minutes for these side effects to appear, but sustained-release or low-flush tablets can help.
If niacin flush side effects persist, it's best to see a doctor.
Q: Is It Good To Take Niacin Every Day?
Niacin in small quantities is safe to take every day, but it's always best to speak to your doctor to ensure the right dosage for you.
If you take too much niacin in a high dosage, you run the risk of niacin toxicity, which should be treated right away due to the possibility of liver damage or stroke.
While a niacin overdose is not possible just by eating a lot of niacin-rich foods, you could overdo it on the daily over-the-counter supplements.
Look out for symptoms like itching, abdominal pain, diarrhea, gout, rapid heartbeat, dizziness, and severely flushed skin.
Q: Does Niacin Cause Weight Gain?
Niacin has been linked to appetite stimulation. While niacin on its own may not cause weight gain, some people may put on extra weight when taking niacin if they start eating more.
Numerous factors go into weight gain, and you should speak to your doctor about your niacin supplements and how the benefits outweigh the risks.
Q: Does Niacin Get Rid Of Belly Fat?
Niacin speeds up your metabolism, which helps the body turn carbohydrates and fat into energy rather than added weight.
To best get rid of belly fat, you should combine niacin supplements with a healthy, balanced diet and adequate exercise. Speak to your doctor if you have weight concerns or more questions.
Q: Does Niacin Suppress Appetite?
Niacin does not typically suppress appetite and is actually a potent appetite stimulator.
However, the many health benefits of niacin can help people maintain a healthy metabolism and improve cholesterol, which may contribute to healthier weight management.
There are other supplements you can take that could help with appetite control and suppression, such as MCT oil or glucomannan.
Q: How Much Niacin Should I Take?
16 mg is the recommended daily amount of niacin for adult males, while adult females should have 14 mg a day.
Sometimes an individual may benefit from the slightly higher upper limit, including 35 mg for adults 19+, 30 mg for teens 14-18, 20 mg for kids 9-13, 15 mg for children 4-8, and 10 mg for toddlers 1-3 years old.
Check with your doctor to confirm how much niacin you should take.
Also, remember that pregnant or breastfeeding women and children should not have niacin supplements unless approved by a healthcare professional.
Q: How To Choose/ Which To Choose?
Deciding on the best niacin supplement comes down to how much niacin you need and your personal preferences.
If you only plan to take niacin in the short term, a smaller bottle of 100 veggie capsules may be fine.
Otherwise, if you want to take niacin every day for the foreseeable future, look for one that offers better bulk value with adequate niacin content to give your overall health a noticeable boost.
Also, think about the kind of niacin supplements you want to take and any possible side effects.
Remember niacin can come in three different forms: niacinamide, nicotinic acid, and inositol hexaniacinate.
Nicotinic acid may cause flushing as the skin's blood vessels widen temporarily, leading to tingling/itching sensations and headaches.
Some timed-release versions have fewer side effects by slowly releasing the niacin into the bloodstream, but may be more likely to cause liver damage.
Non-flush types are niacinamide and inositol hexaniacinate, but they haven't been found to improve cholesterol.
Always check the ingredients as some niacin supplements contain gelatin so they aren't suitable for vegetarians or vegans.
Your doctor can confirm whether niacin supplements are a smart addition to your diet and which ones may be best for you.
Summary
The best niacin supplements are all worthwhile investments, especially if you're looking to supplement your vitamin B3 intake.
For those who don't eat a lot of poultry, fish, or beef, niacin capsules can support proper enzyme function, help convert carbs into energy, and improve cholesterol.
Best Niacin Supplement Overall
Here's a quick recap of the 10 best niacin supplements:
NOW Foods – Niacin
Rugby – Niacin
Nature's Bounty – Niacin
Nutricost – Niacin
Doctor's Best – Niacin
Endurance Products – ENDUR-ACIN
Nature Made – Niacin
Solgar – Niacin
Source Naturals – Niacin
Solaray – Niacin
What's your favorite niacin supplement? Leave a comment below.