The 25 Most Popular Snacks In America
What are the most popular snacks in America?
If there's one thing Americans are passionate about, it's our snack foods. From chocolate bars to potato chips, American snacks are a cultural phenomenon.
We've grown up with many of these snack brands and idolized their mascots and stories since our childhood, so it's understandable why we get so excited to share our favorite snacks with friends and family.
The 25 Most Popular Snacks In America
The most popular snacks in America range from savory to sweet; cakes, chips, cookies, and crackers.
There's no rhyme or reason to what makes a favorite snack in America; it's the perfect blend of marketing, taste, quality of ingredients, and having the secret sauce to build a loyal following.
Here's our list of the 25 most popular snacks in America:
25. Kit Kat
Kit Kat Bars are a classic American snack; delicious wafers, creamy chocolate, and a crunch in every bite. Getting a KitKat candy bar was a treat like no other as a kid, and that remains true today, no matter how old you are.
They originally hit the shelves in the UK in 1935 and have been world-renowned ever since. Kit Kat is owned by Nestlè and is a common favorite for chocolate lovers worldwide.
While Kit Kat bars are traditionally made with milk chocolate, they now offer white chocolate and dark chocolate variations to cater to more palettes, preferences, and cravings.
24. Cheez-It
What do a grown adult, a teenager, and a 5-year-old all have in common? You guessed it – they all love Cheez-Its!
The cheesy, square-shaped cracker was introduced in 1921 and has been eaten and loved by every generation since. Cheez-Its are salty, cheesy, and have tons of flavor options to choose from, like Hot & Spicy, White Cheddar, Extra Toasty, Buffalo Wing, and Cheese Pizza.
Cheez-Its are easily found in the snack aisle in their bright red box. No one will judge you if you rush down the aisle to make sure your favorite flavor is in stock… We get it.
No sandwich is complete without a handful of Cheez-Its on the side!
23. Kellogg's Cereal
Kellogg's is arguably the most iconic cereal manufacturer of the 21st century. From Frosted Flakes and Apple Jacks to Corn Flakes and Rice Krispies, Kellogg's Cereal has something for everyone.
If you grew up in America, you likely started every day with a bowl of Kellogg's Cereal. It's a nostalgic memory for millennials across the country and some still enjoy those same tasty cereals today, just as they did as kids.
Kellogg's was well-equipped with a marketing strategy when releasing cereal; they almost always included a mascot or animal of some sort to associate with the cereal. It was a genius strategy that got kids all over the world eager to get the box of cereal with their favorite mascot.
22. Dove Chocolate
If you're on the hunt for some high-quality milk chocolate, Dove has got you covered.
Dove Chocolate offers a sweet treat in bite sizes, allowing people to indulge more frequently because the servings are smaller but just as delicious.
While a habitual chocolate habit has been linked to cardiovascular disease, eating chocolate in small doses is considered safe and acceptable.
From their Valentine-themed chocolate candy to the melt-in-your-mouth silky smooth cakes and ice cream bars, Dove has something for every sweet tooth. They've been around since 1939 and we understand why; their dark chocolate is one for the books.
21. Nestlé Toll House
Did someone say chocolate chip cookies?
Nestle is another iconic brand in the chocolate department. They've been innovating at-home baking for more than 80 years, making it easy and quick for families of all sizes to enjoy their delicious chocolate cookies.
From the break and bake dough to the gigantic tub of cookie dough, you can't go wrong with having Nestlè in your fridge.
The recipe is timeless and perfect for any occasion; birthdays, Christmas, weddings, and any holiday in between.
20. Quaker Oats
The brand that keeps on giving — from healthy, filling breakfast options like cereal and Instant Oats to the perfect oatmeal raisin cookie, Quaker Oats has given Americans some of the tastiest snacks and breakfast foods for over a century.
Oats are not only fast and easy to make, but they are nutritious, filling, and even better to eat before a long day at work or school, or before a heavy strength training workout.
Founded in 1877, Quaker Oats is one of the longest-standing food businesses in the US, with loyal customers spanning several generations. Families share the same recipes today that they did in the early 1900s, making Quaker Oats a true American classic.
It's hard to imagine a world where Quaker Oats doesn't exist, and we hope to never find out.
19. Cheetos
Another classic American lunch-box snack is Frito Lay Cheetos.
It's never hard to tell who's been eating Cheetos; just find the person whose fingers are covered in orange Cheeto dust.
Cheetos has adapted to the health-food kick of the last decade and now offers baked versions of their cheesy snacks, making these snack foods slightly better for you.
Cheetos come in an impressive variety; from Flamin' Hot Cheetos (a cult favorite) to Mexican street corn, there is something for every taste bud and craving.
18. Tostitos
In the snack world, Tostitos reigns supreme. As far as tortilla chips go, you don't get much better quality, price, and taste than Tostitos.
From their Scoops! line to restaurant-style, Tostitos can provide the snacks for any backyard barbecue, family holiday, or any social situation you can think of where chips are welcome.
These salty, tasty chips have many other flavors, and even offer guacamole, queso, and salsa dips to complement their tortilla chips perfectly.
17. Snickers
It doesn't get much better than milk chocolate, peanuts, nougat, and caramel. It's Snickers time, baby!
The Snickers bar has stood the test of time thanks to genius marketing, high-quality flavors, and sticking to what they're good at. A Snickers bar is the snack version of "if it's not broken, don't fix it." Why change perfection?
Enjoying Snickers candy bars is one of the most American things a person can do. Biting into that chocolate coating, tasting the caramel and nougat swirled together, and the crunch of a peanut… it is pure magic in a wrapper.
However, if you're looking for a quick pre-workout snack, skip the Snickers and go for a clean energy bar.
16. Cheerios
Cheerios has taken the snack market by storm for over 80 years; it was first introduced in 1941 as CheeriOats by General Mills.
These days, Cheerios has a line of cereal for nearly every craving and palette.
We've got the original flavor, which can be great for heart health in older folks and easy to give to babies who are learning to feed themselves. There's Apple Cinnamon, Honey Nut, Frosted, Pumpkin Spice, and Blueberry, just to name a few.
Cheerios has done the work to stay relevant for over 80 years, so it's no wonder they are one of the most loved snack foods.
15. Fritos
Fritos is the original corn chip, first introduced in 1932. It's made from whole cornmeal, different from the classic tortilla chip, and with a whole different taste.
Notoriously salty and crunchy, Fritos can be bought in a wide variety of flavors these days. They come in Chili Cheese, Classic Ranch, Flamin' Hot, Salt and Lime, just to name a few.
While all the new flavors are exciting to try, there's really nothing like an original Fritos chip dunked in some homemade chili on a cold night. Americana!
14. Betty Crocker
If you love to bake, you know Betty Crocker.
Taste buds soar from trying any one of Betty's delightful boxed cakes, making even the most novice person in the kitchen feel like they can really pull it together and bake something sweet to impress their family and friends.
Betty Crocker is a fictional character that was used in advertising campaigns for the brand in the 1920s. Betty's image has become a cultural icon in America, adapting to social and political changes right alongside Americans.
That iconic red spoon on the box has become a household staple in many homes across the country.
13. Pringles
"Once you pop, the fun don't stop!" The jingle that defined the 90s for Americans was certainly the Pringles commercial.
Pringles has a unique advantage over other chip brands; from the different shape and texture of the chip to the cylindrical-shaped packaging, Pringles are always easy to find in the snack aisle.
Being different is typically what helps certain brands stand out, and this rings true for Pringles. The stackable potato chips were introduced in 1968 and have no plans to stop. Today, Pringles are available in over 140 countries and offer 8 flavors (with additional flavors sold in other countries).
For American snacks, Pringles will always be on the list. It's a unique, memorable snacking experience that everyone should have at least once.
12. Lay's Chips
If it's a salty potato chip you're craving, Lay's is the American go-to.
Since 1932, Lay's Potato Chips has been producing many Americans' favorite snack foods of all time. Vending machines around the country are always stocked full of these crunchy, salty chips and it's not unheard of to eat the entire bag in one sitting.
Lay's Chips is owned by Frito Lay, along with Doritos, Cheetos, and Fritos.
While Lay's could stick to their classic yellow potato chip and still succeed, they've introduced a few flavors over the years to appeal to the masses. They have tasty kettle-cooked options, Wavy Lay's, and a low-calorie option as well.
11. Almond Joys
Almond Joys is a well-loved chocolate bar made with coconut, almonds, and milk chocolate.
The candy bar that is statistically most popular with baby boomers, Almond Joy was introduced in 1946 by the Hershey company. It has a sweet, creamy taste with a milk chocolate coating that will have you wishing you bought 2 instead of just one.
Almond Joy is a fantastic snack to sneak into the movies or whenever you're craving some delicious Hershey's milk chocolate.
10. Jif Peanut Butter
Smooth or crunchy?
That's the ultimate question if you're on the hunt for Jif peanut butter, one of America's most iconic snacks.
In 1955, Procter & Gamble released Jif to the public with a unique recipe and modified hydrogenation process, making it taste sweeter with more sugar and added molasses.
Perfect enough to be enjoyed by the spoonful, with crackers, in oatmeal, on a banana or apple… the options are basically endless when it comes to how you can enjoy peanut butter. Peanut butter is rich in protein, making it a great snack or a boost in energy before a cardio workout, which you can find in the best energy bars.
While Jif may be facing a product recall at the moment, we're confident that America's favorite peanut butter will be back on the shelves soon and better than ever.
9. Planters Peanuts
Are you even American if you don't recognize Mr. Peanut?
He's been on TV, billboards, Super Bowl commercials, social media platforms… Mr. Peanut has been featured in every type of digital and traditional marketing campaign you can think of.
The funny yellow peanut with the top hat and umbrella has been around for over 100 years; it was designed by a grade-school child in 1916. Aside from salty, delicious peanuts, Planters also sells Cheez Balls, cashews, cocktail peanuts, smoked almonds, potato chips, nut clusters, and more.
Anything peanut flavored, Planters has done it. We're curious to see if they ever release peanut butter and how that product will sit with consumers.
8. Doritos
They may not be the healthiest, but there's no denying the classic taste of Doritos Nacho Cheese.
Doritos were first introduced in 1964, with the nacho cheese flavor coming in 1972. It quickly became one of America's favorite snacks, with the classic orange cheese dust leaving marks on everything you touched after enjoying a few chips.
As a brand, Doritos has been vocal and involved with many social justice movements, including supporting LGBTQ youth and adding bilingual advertisements to their campaigns.
Aside from Nacho Cheese, Doritos also offers the iconic Cool Ranch flavor, which is a legend in its own right. Since its first launch, there have been over 100 different Doritos flavors introduced to American consumers.
7. Pillsbury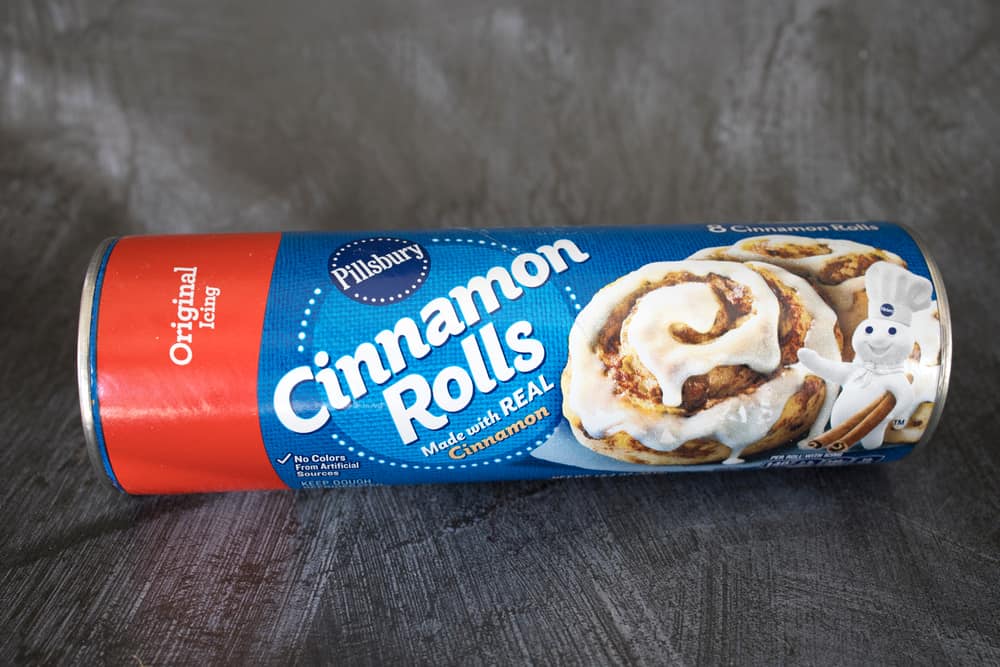 The cute little Doughboy in a blue checkered apron is another American mascot that everyone knows and loves.
If you grew up eating boxed cakes and refrigerated cookie dough (we didn't care about salmonella in the 90s!), Pillsbury was a common name in your household.
From cakes (like that perfect golden sponge cake!), cookies, and cinnamon rolls to biscuits, bread, and the popular crescent rolls, Pillsbury fed many Americans breakfast AND dinner, with leftovers to spare.
6. Kettle Chips
Advertised as America's first natural potato chip brand, Kettle Chips was introduced in 1978 and released the first kettle chips in 1982.
These chips are fried using canola oil and sunflower oil, which can be a healthier option when compared to how standard potato chips are fried. They claim to be all-natural and healthier, but the sodium, fat, calories, and carb content are just about the same as a standard bag of potato chips.
But they're still delicious, so they deserve a spot on this list!
Kettle Chips are crunchy, salty, and have some excellent flavor choices and styles, like Krinkle Cut, Honey Dijon, Jalapeño, New York Cheddar, and Spicy Thai, to name a few.
5. Ritz Crackers
Nabisco introduced the Ritz cracker in 1934. The name of the cracker, Ritz, was inspired by Americans living through the Great Depression and wanting to give them a "taste of the good life" through fine, quality crackers.
Ritz Crackers taste amazing by themselves, smothered in peanut butter, with cheese and meat, or dipped in your favorite sauce or spread.
The flavor varieties of Ritz crackers are undoubtedly why they made the list of Americans' favorite snacks; Roasted Vegetable, Honey Wheat, Garlic Butter, Hint of Salt, and Everything flavors provide a salty snack on the go, at school, at home, or in the office.
4. Oreo Cookies
An Oreo is a black and white sandwich cookie made up of two chocolate wafers with a sweet cream filling.
Oreos have been sold since 19122 and are extremely dunk-able; many Americans would argue they are best enjoyed once submerged and softened in a glass of milk. But we'll let you be the judge!
Even better than Oreo cookies are Double Stuf Oreos, which the brand released in 1974, featuring nearly double the amount of cream filling as its predecessor.
Oreo cookies are sold in over 100 countries and are the best-selling cookie brand in the United States. Flavors available today include rainbow, cool mint, peanut butter, and birthday cake. They even have a gluten-free option!
3. Reese's
Americans don't mess around when it comes to peanut butter and milk chocolate.
That's why Reese's Peanut Butter Cups have been one of the most iconic snacks in the country since they hit the shelves in 1928.
Peanut Butter Cups were originally called "Penny Cups" because they could be purchased for one cent.
The Hershey Company is constantly testing and releasing new products to the market to try and build the already-loyal fan base to the original Reese's Peanut Butter Cups.
Flavor and size variations that have been released include Reese's Pieces, Reese's Crunchy, Reese's Mini Peanut Butter Cups, Reese's Pieces Peanut Butter Cups, and Big Cups with Pretzels, to name a few. All of these contain classic milk chocolate and a sweet peanut buttery taste.
Reese's can be found in the ice cream aisle, in trail mix, and in many other delicious treats and snacks. If you're feeling adventurous, try adding a Reese's to your S'more in place of a Hershey's bar. Game changer!
2. Hershey's
Hershey's Bars, the first real product made under the Hershey name, was manufactured in 1900 by Milton S. Hershey.
He was an innovator and knew that chocolate would be a long-term food commodity, and he wanted to get his share.
Over 120 years later, it's safe to say Mr. Hershey knew what he was talking about and successfully built one of the most reputable food companies to date.
From the original Hershey's Bar to Hershey's Kisses, Mr. Goodbar, Hershey's syrup, PayDay, Twizzlers, and many more can be credited back to Hershey's brand.
There are many chocolate bars on the market today, but nothing tastes quite like Hershey's.
1. M&M's
We made it… America's most popular snack food is M&M's!
M&M's are small, multi-colored button-shaped chocolate candies that come in flavors including Peanut, Peanut Butter, Pretzel, Crispy, and Caramel.
The candy gets its name from the two founders, Forrest E. Mars and Bruce Murrie, who had a 20 percent share in the product.
M&M's are something of a global phenomenon now; the M&M "spokescandies" can be recognized nearly anywhere, and the chocolate can be purchased in nearly 100 countries.
It's no surprise they made this list, and while they may have originated in the United States, the love people have for M&M's is truly worldwide.
Summary
There you have it… the most popular snack foods in America.
Hopefully, this article got you craving your favorite chocolate bars or tortilla chips and you're planning your next grocery trip.
If you've tried any or all of these American snack foods, consider yourself lucky to have been in the presence of such greatness. You may not feel your best after eating any of these, but it's called junk food for a reason.
Here's a quick recap of the 25 most popular snacks in America:
M&M's
Hershey's
Reese's
Oreo Cookies
Ritz Crackers
Kettle Chips
Pillsbury
Doritos
Planters Peanuts
Jif Peanut Butter
Almond Joys
Lay's Chips
Pringles
Betty Crocker
Frito's
Cheerios
Snickers
Tostitos
Cheetos
Quaker Oats
Nestle TollHouse
Dove Chocolate
Kellogg's Cereal
Cheez-It
Kit Kat
Which one of the most popular snacks in America is your favorite? Leave a comment below.