John Cena Workout Routine
John Cena is best known for his professional wrestling with the WWE.
He started wrestling back in 2000, but was a bodybuilder and model before that.
In fact, he has a degree in exercise physiology that pushed his passion for bodybuilding even further. Now that he has become famous through the WWE and his other business ventures, more and more people want to know how he has created his physique.
In order to help people change their bodies to look more like his, he released information about his workout as well as diet.
This has sparked a lot of people to change their routines so they can become shredded and healthier!
Workout Principles
John Cena's workouts focus on building muscle, so expect to do a lot of different types of heavy lifting if you want to get his physique.
He uses dumbbells, different machines, barbells and his own body weight in order to do workouts from head to toe.
One important part of his workout regimen is to focus on different parts of his body each day of the week.
For example, one day he will do lifting exercises for his chest, while another day he will focus on arms and legs. This allows the muscles to rest while he is focusing on other parts of the body.
John also focuses on having a rest day so that his entire body can rest and relax.
The reps he does when lifting will vary for each of the different workouts. If you're just starting out with his workout regimen, then you may need to start small with your weight and reps.
As you grow stronger you will be able to increase the reps as well as the weight so that you can grow larger muscles.
You should also be dedicated to spending at least five days at the gym, as you will work out one main area of the body for each day that you're there.
Diet Principles
John eats a healthy diet that is high in lean proteins and low in simple carbohydrates. His number one rule is that junk food is going to make you weak, so eating a lot of it is not an option.
He doesn't like a lot of bad foods in his body because he realizes they won't provide him or his muscles with the nutrients that they need.
The complex carbohydrates he consumes include things like peanut butter, which are filling and packed full of other nutrients.
These basic foods give the body energy and help promote healthy fat burning as well.
Another important part of John's daily diet is to eat around 8 small meals per day. Although this sounds like a lot of food, each of the meals should be small and nutritionally balanced.
He also takes a variety of different supplements that provide his body with necessary nutrients to help build muscle and keep him healthy while working out.
His diet may be difficult to adapt to for anyone who consumes a lot of junk food, but it's necessary for building a strong and healthy body.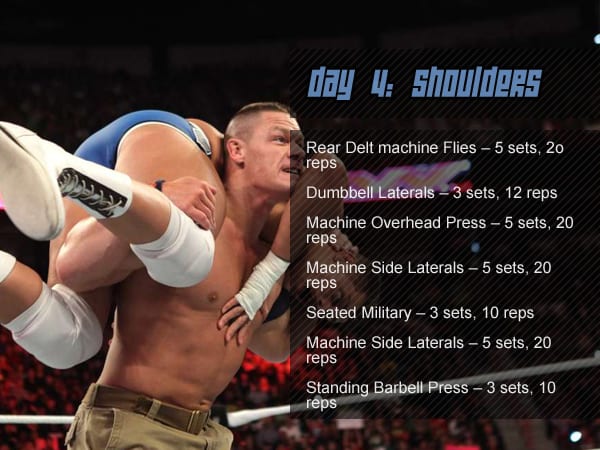 <![CDATA[ */ var zbjs = {"ajaxurl":"https:\/\/jackedgorilla.com\/wp-admin\/admin-ajax.php","md5":"d16a4326ce5fc8a7290ecf8217830668","tags":[],"categories":["Workout Routines"]}; /* ]]>