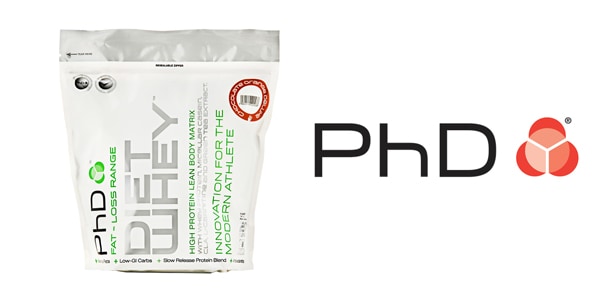 Being a high protein formula for weight control and slimming, PhD Nutrition Diet Whey is considered as one of the leading low sugar, high protein, diet formulas for controlling weight.
It includes very interesting ingredients, such as amino acids (Glutamine and Cysteine), milk protein, soya protein, whey protein, I-carnitine, CLA (conjugated linoleic acid), flaxseed and green tea extract. Whey protein is derived from milk. It is high in amino acids like Glutamine and Cysteine. Flax seeds hold considerably high levels of lignans as well as dietary fiber. PhD Nutrition Diet Whey Protein is ideal for:
People who are seeking a dietary supplement with high protein content.
Those who are following a weight-management plan, preferably nutritional.
Anyone who wants to replace his/her means with a low sugar, high protein shake.
Gym goers and slimmers who want to control calorie intake and lose body fat.
This amazing formula is available in the following flavors:
Belgian Chocolate
Chocolate Orange
White Chocolate
Strawberry Delight
Vanilla Crème
It contains 35 grams of protein, which is a pretty good amount for those who are trying to lose weight. With 7 grams of carbs and only 2 grams of sugar, PhD Nutrition Diet Whey is an ideal choice. It also contains Waxy Vol. Although it contains a number of ingredients, there is no excess calorie intake.
Pros
Helps your lean muscle to grow
Assists in maintain the tone of your muscles
Tastes good
Offers important nutrients that are necessary for enhancing performance
Cons
Mixability is not very good
Sometime difficult to swallow due to clumps
Conclusion
It works incredibly well for people trying to lose body fat. If you think you can handle clumps or mix it well, there is no reason to not to purchase this product.
<![CDATA[ */ var zbjs = {"ajaxurl":"https:\/\/jackedgorilla.com\/wp-admin\/admin-ajax.php","md5":"f1c07c4e2ef1a97c0ce1631bd94486e9","tags":[],"categories":["Protein","Reviews","Supplements"]}; /* ]]>