Maximuscle Progain Review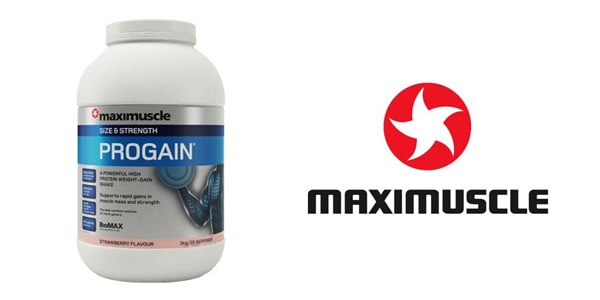 Maximuscle Progain is a weight gainer that provides you with the accurate amount of calories required to gain appropriate weight and muscle bulk. There are no cheap fillers, simple sugars and inferior proteins used, which eliminates the possibility of stomach problems.
Progain is, in fact, the very first weight gainer that comes with low glycaemic Inulin – a carbohydrate (oligofructose-based) that is digested very slowly and does not affects your blood sugar levels, which radically reduces the insulin response. This gives rise to the removal of surplus sugar calories from your blood that was stored as body fat – a problem with formulas with high sugar.
Nutriose, another unique low glycaemic fiber, is also included. The inclusion of these special ingredients, in addition to MCTs helps you absorb extra calories that are more likely to be used for building lean muscles instead of layers of fat.
Progain is an amazing weight gain formula developed to cater those who are interested in bulking up. It is the very first protein powder that guarantees natural Orotic acid levels in its Biomax (whey protein), which aids muscle growth.
Pros
Satisfactory taste
Can be used with milk
Adds weight pretty quickly
Contains virtually zero lactose
Build muscles effectively
Great for bulking
Rapidly digested
No cheap proteins added
Cons
Causes mood swings
Causes the user to develop short temper
Expensive
Conclusion
You might develop short temper or experience mood swings after taking Progain. However, if you can get a grip on yourself and handle your mood, Progain is the formula to build some serious muscle. All you need to do is add one to two shakes of Maximuscle Progain to your daily meal. There might be some cheaper alternatives on the market, but none of them is as effective as this formula.

<![CDATA[ */ var zbjs = {"ajaxurl":"https:\/\/jackedgorilla.com\/wp-admin\/admin-ajax.php","md5":"d16a4326ce5fc8a7290ecf8217830668","tags":[],"categories":["Reviews","Supplements","Weight Gainers"]}; /* ]]>